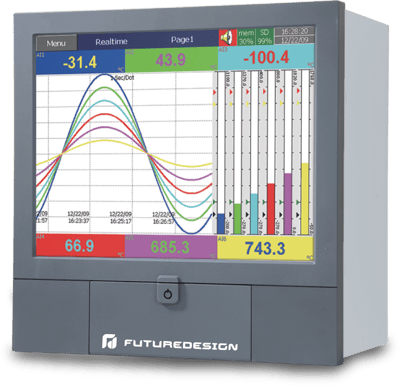 Images are representations only.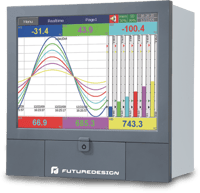 A large 12.1" high-resolution touch screen recorder supports up to 48 universal analog inputs.

Digital Inputs capability is available with the allowable number based upon the PR model, number of analog inputs and digital outputs specified.

With the optional Plus 1 or 3 firmware, Digital Inputs may be configured as high frequency pulse inputs typically used in flow applications.

Derived Math channels are standard with the PR10/20/30 offering 15, 40 & 60 derived channels respectively.

Counters, Timers and Totalizing functions are optional with Plus 1 & 3 firmware.

All analog, external, derived & digital inputs have a 100ms total sample rate.

All analog, external and digital input channels are freely configurable and named to suit your process requirements.
Features
Custom Graphic Display Views
Process Control PID Module with Profile
Scan Rate: 100ms all Analog Inputs (48 max), Digital Inputs & External Channels (96 max)
Batch Functions (Data Log)
Web Server / Email on Alarm
Timers & Counters
Security / Operator Audit Trail
PID Control Loops with Profiling up to 4 or 8 PID modules PR10/20-PR30
Digital Inputs / High Frequency Pulse
Print Directly to Printers; Local, Network & pdf
Free Hand Messaging on Touch Screen
Circle Chart View (PR30 & all in PC Software)
Specifications
Number of Inputs
6, 12, 18, 24, 30, 36, 42, 48 Channels
True Universal Inputs
Thermocouples: J, K, T, E, B, R, S, N, L, U, P, W5, W3, LR, A1, A2, A3, M
RTD: Pt50, Pt100, Pt200, Pt500, Pt1000, Pt50, Pt100, JPt50, JPt100, JPt200, JPt500, JPt1000
Communication
Modbus TCP/IP
RS-232 or RS-422/485 Modbus RTU
Certifications & Approvals
AMS2750E Heat Treating Requirements
Ovens - Furnaces - Kilns
Environmental Chambers
Boilers
Sterilizers / Autoclaves
Power Generation Variables
Flow Applications / Totalizers
Water / Waste Water Flow
Test & Measurement Applications