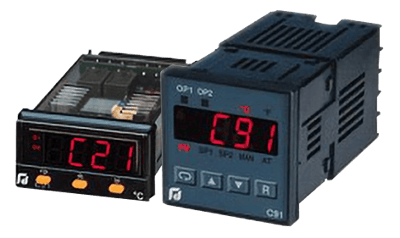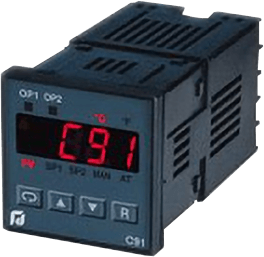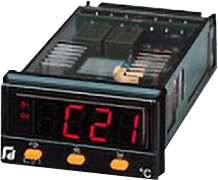 Images are representations only.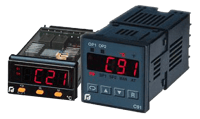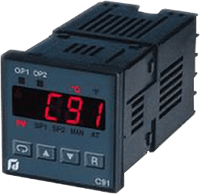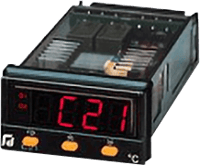 Future Design's "C" series raises the bar for 1/16 and 1/32 DIN single display temperature controllers.

Fast input scan rates ( 5 per second ), 18 bit input resolution and 15 bit output resolution as well as fuzzy modified PID control provide not only the highest accuracy, but temperature control minimizing over/under shoot while maintaining fast process response.

The "C" series can be equipped with up to 2 control outputs that can be configured as two PID + fuzzy or single PID + fuzzy with alarm.

A third output can be configured for RS232/485 Modbus communications or process retransmission (retrans on C21 only).

Standard software functionality includes Fuzzy Logic + PID, soft start ramp, Lock out protection, bumpless transfer, user defined menu operation, timer function, and more.

With isolated inputs/ outputs, UL and CE, the "C" series is the right control for single display temperature control requirements.
Features
Fuzzy Logic PID Temperature Control
Up to two Control outputs
Red or Green LED display.
Variety of Alarm modes
Transmitter Power Supply
SEL Function to arrange user menu
Nema 4X/IP65 protection available
FREE Data Acquisition Software
Specifications
Power
90-250 Vac, 50/60 Hz
11-26 Vac/ Vdc
RTD
PT 100 ohm RTD (DIN or JIS)
Accuracy
Typically better than ± .25 % of Span
Humidity
0-90 % Relative Humidity, Non-Condensing
Oven - Furnaces - Kilns
Hot Plates / Melt Pots
Food Service Equipment
Environmental Chambers
Sterilizers / Autoclaves
Packaging Machines
Plastics Machinery