Images are representations only.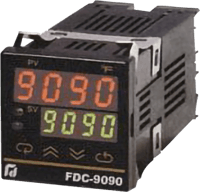 Future Design's 9090 series 1/16 DIN controllers take advantage of the latest SMD technology.

Software has been refined and offers logical menu structures and advance noise immunity.

By using the unique "SEL" function, the user has the flexibility of assigning the parameters to be shown at the operator level.

The 9090 offers a wide variety of options to meet your control needs.

Manual control of the output is standard with offset and shift functions to allow process values to be corrected for intrinsic offsets and in-site calibrations.

The alarm function can be independently configured as process alarm, deviation alarm, deviation band alarm or latching alarm.
Features
Low Cost 1/16 DIN PID Control
3-year Warranty
Universal Temperature Inputs
Simple to Use & Configure
Setpoint Logic: Static or Ramp Rate
PID Auto Tuning
Fuzzy Logic
Timer Function
UL/CE
Ramp Rate Function
Security Configuration
Power Input - Special Order
Signal Input - Configurable
Range Code - Configurable
Control Mode - PID/On-Off Control
Output Option - Other
Alarm Option - None
$200.00
USD
$25.00 Shipping
Specifications
Power Input
90-264 Vac, 50/60 Hz
20-32 Vac/ Vdc
RTD
PT 100 ohm RTD (DIN 4370 or JIS)
Accuracy
Typically better than ± .25 % of Span
Oven - Furnaces - Kilns
Hot Plates / Melt Pots
Food Service Equipment
Environmental Chambers
Sterilizers / Autoclaves
Packaging Machines
Plastics Machinery