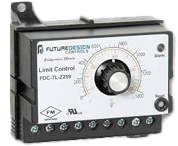 Images are representations only.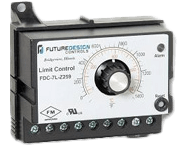 Future Design's Series "7L" Hi-Limit combination surface or DIN rail mount FM Approved controller designed to provide hi-limit protection to process applications.

Setup is accomplished simply by adjusting the set point knob by hand.

A "SPDT" 5 amp latching relay is provided and must be manually reset each time the unit exceeds the limit set point.

Compact and simple, the Series "7L" offers several dual F/C temperature ranges to satisfy customer needs.
Features
DIN Rail or Surface Mount
Compact - Simple - Reliable Design
Easy to Use
Remote Reset Digital Event Input
Dual F / C Temperature Ranges
Output: 5A Form C Relay (SPDT)
Low Voltage Power Input available
Specifications
Input
Thermocouple: Type J, K, T
RTD: Platinum
Limit Output
SPDT Relay rated at 5A resistive
Control Stability
Typically less than ± 5 microvolts per degree F and 0.01 % of Span per % rated line voltage
Setpoint Accuracy
± 1 % of Full Scale Max. at 25C and rated line voltage
Oven - Furnaces - Kilns
Environmental Chambers
Sterilizers / Autoclaves
Food Service Equipment
Hot Plates / Melt Pots
Applications requiring a Limit Device