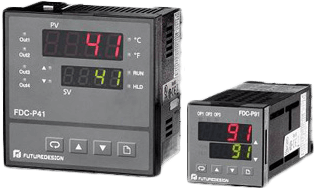 Images are representations only.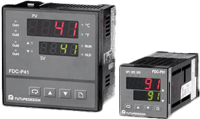 The FDC-P Series of controllers, the FDC-P41 1/4" DIN and FDC-P91 1/16" DIN, with up to 9 Profiles (up to 64 segments/profile) and 5 outputs set new standards for single loop Profile controls.

Packed with performance and features for simple or complicated OEM applications, the P Series provides an unrivaled value.

Exceptionally easy to use, the P Series offers up to 9 Profiles with up to 64 segments per program.

It has maximum of 4 control outputs, configurable Event input, PV/SP retransmission (15-bit), serial Modbus RTU communication option (output #5), fast scan rate (5 times/second).

User friendly prompts and a Home Page feature that make it the right choice for a Profile control.

The P Series offers a full range of universal high resolution (18 bit) inputs; T/C, RTD and linear mA/VDC inputs.

Power requirement of either 90-250 VAC or optional 11-26 VAC/VDC allows the P Series to be used virtually anywhere.
Features
9 Programs - up to 64 segments/program
Up to 5 Outputs
Event Input
Shallow Panel Depth
PID Selections/Segment
Security/Password
Specifications
Power
90-250 Vac, 47-63 Hz, 12 VA, 5 W Max.
11-26 Vac/ Vdc, 12 VA, 5 W Max.
Input
Thermocouple: Type J, K, T, E, B, R, S, N, L, C & P
RTD: PT 100 ohm DIN and PT 100 JIS
Linear: 4-20 mA, 0-20 mA, 0-60 mV, 0-1, 0-5, & 0-10 Vdc
Accuracy
Typically better than ± 0.25 %
SSR Drive
5 Vdc @ 30 mA
14 Vdc @ 40 mA
Linear
Isolated 0-20/4-20 mA, Max. 500 ohm load
Isolated 0-5/1-5/0-10 Vdc, minimum 10K ohm load
Humidity
0-90 % Relative Humidity, Non-Condensing
Documentation
Data Sheets
Product Manuals
Warranty