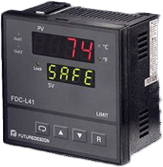 Images are representations only.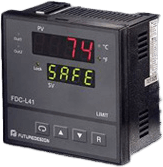 The FDC-L41 1/4 DIN Limit Control provides up to three discreet setpoints, two control outputs, communication options, fast scan rates and user friendly prompts making it the right choice for safety protection.

The L41 offers Remote Reset as standard and offers a full range of universal high resolution (18 bit) inputs; T/C, RTD and linear mA/VDC inputs.

Power requirement of either 90-250 VAC or optional 11-26 VAC/VDC allows the L41 to be used virtually anywhere.

Control outputs offer Form C Relay, SSR Drive or Triac with the optional Output #2 configurable as latching, non-latching or with alarm silence logic.

Output #2 may also be specified as a transmitter power supply.
Features
3-year Warranty
Universal Temperature Input / 18 Bit A-D
Configurable Display Logic - SAFE
Remote Reset Digital Event Input
Meets NFPA 86.8.16.6 to display temperature and setpoint
Simple to Use & Configure
PC Configurable
Outputs: up to 2
Serial Communication
Specifications
Power
90-250 Vac, 47-63 Hz, 10 VA, 5 W
11-26 Vac/ Vdc, 10 VA, 5 W
Input
Thermocouple: Type J, K, T, E, B, R, S, N, L, C & P
RTD: PT 100 ohm DIN and PT 100 JIS
Linear: 4-20 mA, 0-20 mA, 0-60 mV, 0-1, 0-5, & 0-10 Vdc
Accuracy
Typically better than ± 0.25 %
SSR Drive
5 Vdc @ 30 mA
14 Vdc @ 40 mA
Communication
Serial Modbus: RTU RS-232 or RS-485
Retransmit 0-20/4-20 mA, 0-5/1-5/0-10 Vdc
Humidity
0-90 % Relative Humidity, Non-Condensing
Vibration Resistance
10-55 Hz, 10 m/s for 2 hours
Oven - Furnaces - Kilns
Environmental Chambers
Sterilizers / Autoclaves
Food Service Equipment
Hot Plates / Melt Pots
Applications requiring a Limit Device