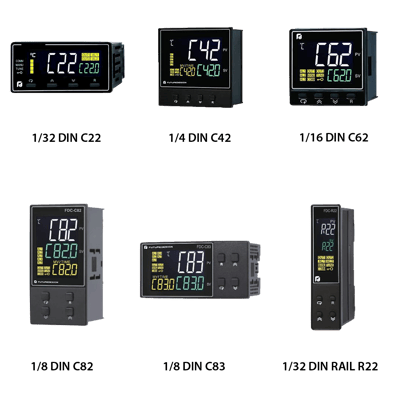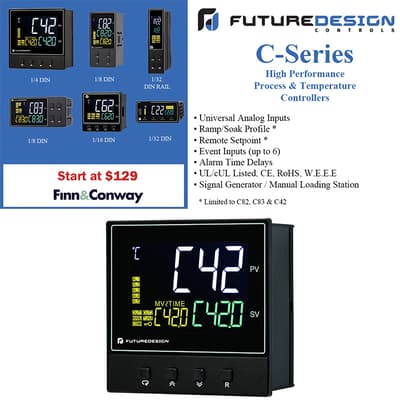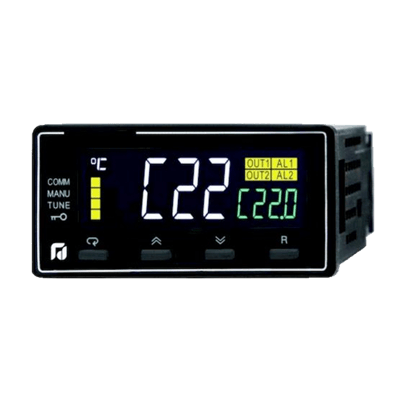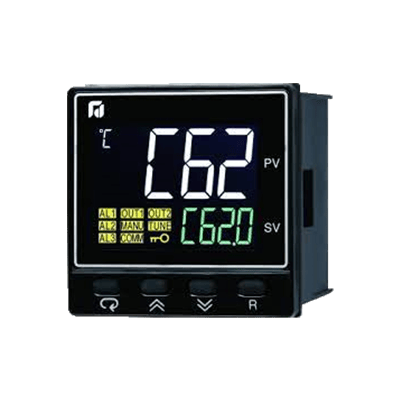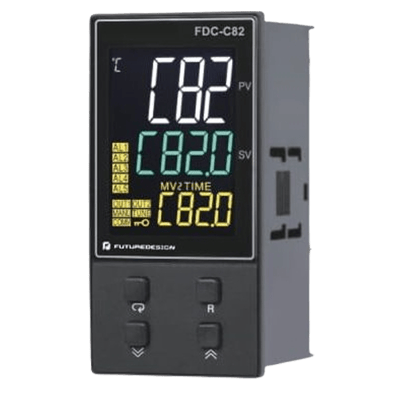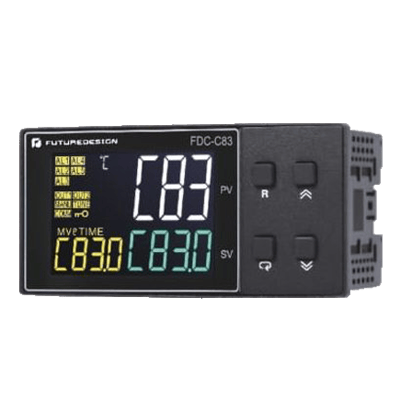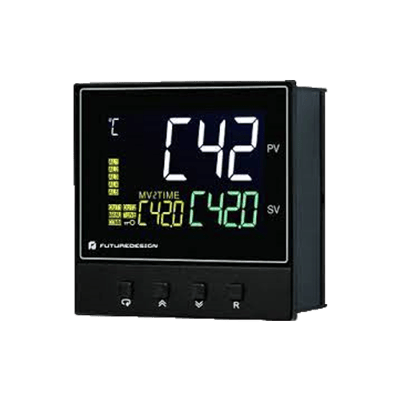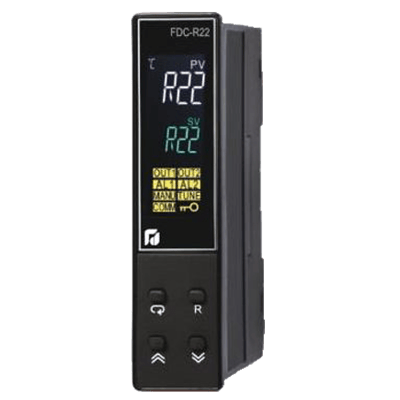 Images are representations only.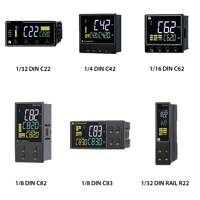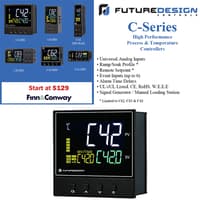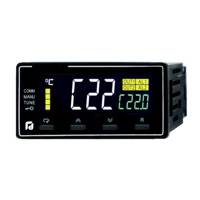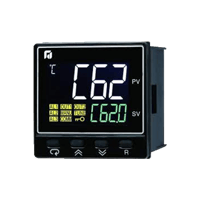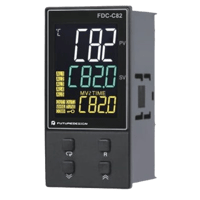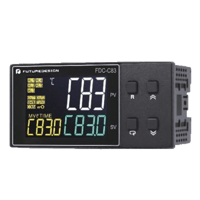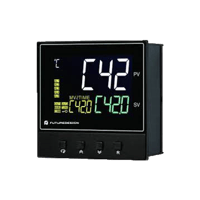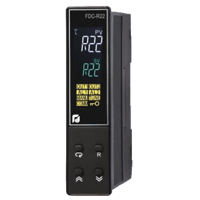 Future Design Controls Multi-Color LCD display C-Series set a new standard for DIN temperature controllers packed with performance to meet low cost OEM needs while providing reliable High Performance temperature and process control with 3-Year Warranty.

C-Series Panel Mount Sizes

The C-Series is available in 1/32 DIN C22, 1/16 DIN C62, ⅛ DIN C82/83, ¼ DIN C42 and R22 DIN Rail Mount.

The ⅛ DIN are available as vertical and horizontal while the R22 is a DIN rail mount control perfect for high density single loop control requirements. .

Ease of Use:

The multi-color LCD display, configurable space for output annunciation, PID % output, count down timer or Profile information provide operators with an ease of use not found in this class of instruments.

In addition the SEL function provides additional flexibility & operator ease of use by allowing configuring those parameters significant to the operator [up to 8] to display in sequence when the scroll key is depressed. [P, I, D, Shift, Cycle 1, deadband, etc., or nothing displayed].

Input Resolution and Auto Tune:

With the highest input resolution for like products, fast scan rate and proprietary Fuzzy Logic Auto Tune the C-Series provides world-class control performance.

Control Outputs:

Dependent upon model the C-Series is available with up 4 control outputs which can be configured up to 2 PID or 1 PID with 3 alarm or event combinations, In addition optional Serial Modbus, Retransmission, Remote Setpoint, configurable Event inputs, CT inputs and more.

Alarm Configuration:

There are 11 different alarm types including Process, Deviation, Deviation Band, CT Heater Break/Short, Event input (mapped to relay output) all with Latching, non-Latching, Alarm Hold and individually configurable time delay to minimize nuisance alarms.

Profile end, Profile in Holdback, Range High / Low and Dwell time alarm providing a count down timer starting when the alarm is activated; the dwell time remaking may be displayed on the ⅛ & ¼ DIN models..

Ramp to Setpoint:

All models include a configurable Ramp Rate to setpoint in degrees per minute or hour with a Soak Alarm available for all models.

Profile (Ramp Soak):

The ⅛ and ¼ DIN C82/83 and C42 offer Profile ramp/soak function supporting up to 16 steps.

Configurable as 1 profiles with 16-steps, 2 profiles with 8 steps each or 4 profiles with 4 steps each.

Outputs other than output #1 may be configured as event outputs.

The profile status may be displayed; refer to the user manual for additional details.

Remote Setpoint (Analog Input):

Available in the ⅛ DIN C82/83 and ¼ DIN C42.

Soft Start:

- Steady state, non-profile control or if Profile capable, not running a profile: on power up a configured percentage of the proportional output for outputs 1 and 2 if 2 is PID cool. Configurable to terminate on time or the PV crossing a configured threshold..

- Profile Capable and running a Profile:

- Power Cycle, will operate as described above (steady state) if Profile Recovery (PFR) is set to SPI. If set to another PFR value the Soft Start logic will not be active.

- If Soft Start end is configured as passing a PV threshold the time of power up is not relevant when PFR = SP1 as long as the PV is below the threshold value. Refer to user manual for additional information.

Event Input:

Multiple mutually exclusive configurable functions are available for profile control, reset latching alarms, defeat outputs, start AutoTune, Output Failure Transfer, alarm input mapped to a relay output and more.

- 1 Event Input offered on the 1/32 DIN and DIN Rail mount models C22/R22.

- 2 Event Inputs offered on the 1/16 DIN C62

- 6 Event Inputs offered on the ⅛ DIN C82/83 and ¼ DIN C42

Communication:

All models support

- Serial Modbus RS485

- Retransmission of SP or PV, mA or VDC

Load User (Custom) Default Configuration:

The device configuration as commissioned by the OEM or end user may be set as the device's default configuration.

Navigating to the "load default configuration" prompt the operator may easily return the device to a known configuration.

Manual Loading Station:

Instead of being used as a PID control the 100 & C Series may be configured as a Manual Loading Station to provide easy method to manually control a linear output.

The single display C Series are the most popular models for Manual Stations.

Additional information can be found at: Loop Controls Manual Loading Station.pdf - https://www.futuredesigncontrols.com/Docs/FDC_Manual_Loading_Station.pdf
Features
Multi-Color Display
Low Cost High Performance PID Control
3-year Warranty
Universal Input T/C-RTD, VDC, mA, mV
CT inputs (2) with Heater Break/Short Alarm
Simple to Use & Configure
SEL configurable prompt sequence
Alarms configurable with Time Delay "active"
Soft Start: Power up configurable PID % Out on time or passing through a PV threshold
Event Inputs(EI):


1 EI C22-R22 and 2 EIC62
Up to 6 EI on C82/83 and C42

PID Fuzzy Assisted Auto Tuning
Setpoint Logic: Static or Ramp Rate
Profile Ramp Soak for C82/82 & C42
Up to 4 control outputs
PC Configurable
Options: 


Retransmission of SP/ PV
Serial Modbus RS232/485
Remote Setpoint,
Up to 6 Event and 2 CT Inputs

One button return to User defined default configuration
Specifications
Power Input
90 - 250 VAC, 47 - 63 Hz
11 - 40 VDC / 20 - 28 VAC; 47 - 63 Hz Optional
Transmitter Power Supply [isolated] is available
Inputs
Universal Thermocouple & RTD, Linear mA/VDC (Standard)
Control Outputs
Up to 2 isolated PID control outputs; to have two PID outputs #1 must be PID & output #2 is default PID Cool
Available Outputs
Relay 2 A/240 VAC Resistive [Form A (spst)]
SSRD 5 VDC/30 mA
SSRD 14 VDC/40 mA
4-20/0-20 mA
0-10 VDC
Alarm Outputs
Depending upon model and configuration up to 3 outputs
Output #2/Alarm #2 may be specified as any control output shown above while remaining alarm outputs are relay (Form A (spst))
Communications
Modbus RS232, RS485, VDC and mA Retransmission
Security: Software Configurable - Allows
None: All parameters are unlocked
Set: Setup Configuration Data is locked
User: All data locked except SP#1
All: All data locked
Oven - Furnaces - Kilns
Hot Plates / Melt Pots
Food Service Equipment
Environmental Chambers
Sterilizers / Autoclaves
Packaging Machines
Plastics Machinery: Extrusion, Injection, Molding, etc.